Check it out! The new Membership Program from the DeMolay International Membership Committee is here!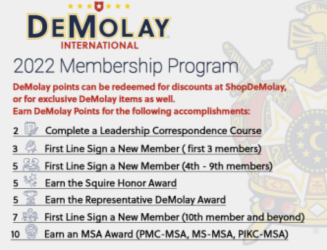 The system is based around points. All Active DeMolays and Squires have the opportunity to earn points by completing certain tasks during the year. We wanted to reward those who not only got in new members, but also those who earned the awards which help to build the foundations of our members and their chapters. These tasks and point values associated with them are listed below.
2 points each - Complete a Leadership Correspondence Course
3 points each - First Line Sign a New Member (First 3 Members)
5 points each -  First Line Sign a New Member (4th -9th Members)
5 points - Earn a Squire Honor Award
5 points - Earn the Representative DeMolay Award
7 points each - First Line Sign a New Member (10th Member and beyond)
10 points -Earn an MSA Award (PMC-MSA, MS-MSA, PIKC-MSA)
Each point earned will correlate to one dollar in the ShopDeMolay store. Members will be able to purchase anything in the store using the points they have earned or a combination of points and money. In addition, there will be exclusive prizes which can only be purchased with the use of points.
Only your activities from 2022 will count toward earning points. All qualifying activities must be completed by December 31, 2022, and reported to the Service & Leadership Center by January 15, 2023. Points earned, and the associated credit for ShopDeMolay must be redeemed by June 30, 2023. All unused credit will be forfeited on July 1, 2023.