Colorado DeMolay
You won't find another organization for young men between the ages of 12 and 21 years that offers character building, leadership training, and life skill development more than DeMolay!
Member Spotlight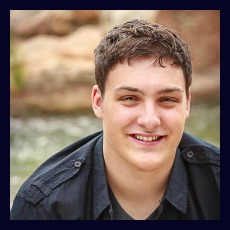 Noah started DeMolay in February 2008 in Aurora Chapter and worked with many great young men there. Noah wanted to be in DeMolay from a very young age since his dad was a Past State Master Councilor and his mom was a Past State Sweetheart, both from Colorado DeMolay. He helped grow Aurora Chapter from only 3-4 young men to over 12 young men over the next six months. His ritual was exceptional as he progressed from one position to the next. He had been elected into the Junior and Senior Councilor positions at Aurora where he helped with chapter membership and created a fund raiser that raised well over $1000 the first time out. He also helped give back to Aurora Masonic lodge by helping replace some of their worn down grass with rock.
After a couple of years Noah moved to High Plains Chapter, due to distance from home. He participated there as a member helping the Chapter move forward. He was then elected to go through the line and achieved the honorable rank of Master Councilor. His term was filled with many fun events and the Chapter grew. As Noah was retiring from his term as Master Councilor he learned the Installing Officer part and performed it many times for the incoming Master Councilor and friends of his that requested him to perform it for their incoming term as well. Noah also competed in Mister DeMolay contest and did a fantastic Stand Up Comedy routine for the talent portion. Noah later served a secondterm as Master Councilor when there was a break in the line and worked hard to continue to build the Chapter.
Outside of DeMolay Noah continues the brotherhood he has learned by working with various clubs at school. During his high school years he enjoyed participating in Football and Wrestling. He is a Senior this year and as he focuses on his future life in "the real world" he is looking to attend the Art Institute of Colorado and major in Graphic Design. Some of Noah's passions, besides DeMolay, are music, especially with his subwoofer in his car or while DJ'ing. He also enjoys working with computers and hanging with friends.
As Noah moves forward with DeMolay, the lessons he has learned will continue to create a well rounded person.  The leadership and support he provides will continue to help inspire the young men of High Plains Chapter.