Colorado DeMolay
You won't find another organization for young men between the ages of 12 and 21 years that offers character building, leadership training, and life skill development more than DeMolay!
Member Spotlight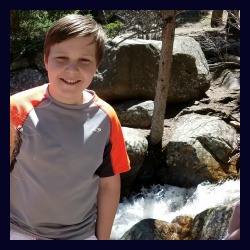 Josh has been a wonderful addition to High Plains Chapter ever since he joined in October of 2015.  Josh shows up to meetings with his part memorized and is always willing to fill in where needed.  He has helped out the State Line by participating in the Legion of Honor Degree and had his part memorized for the Grand Master's Class, until walking pneumonia kept him down.  Josh also received the Rising Star Award at last year's convention.
Josh was born in Thousand Oaks CA on Sept 30th 2003. He has been a wonderful part of all our lives. Always a smile on his face, Josh takes adversity head on and works hard until the job is done. He finds great reward in accomplishment and doesn't mind getting a little dirty while doing it. He loves his family and never turns down an opportunity to join in on family activities. That includes breaking away from his video games to do so. Playing board games or just taking a walk with his family makes him happy. He's adventurous and loves camping, canoeing, hiking or just swimming in a lake, Josh loves to be outdoors. He loves to watch his Denver Broncos play every week with his dad and gets a little heart broken if they lose. He has joined a kickboxing gym and enjoys his work out ending the day drenched in sweat. School is very important to him. His teachers have praised him for his work ethic. He has always been one of the hardest workers we've known. It's very easy to say we are proud of Josh. Anyone who has ever known us would agree to that. We are fortunate to have him in our lives and very proud to call him our son.