Colorado DeMolay
You won't find another organization for young men between the ages of 12 and 21 years that offers character building, leadership training, and life skill development more than DeMolay!
Member Spotlight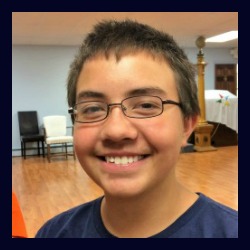 Chris H. is 16 year old and goes to Mountain Vista high school.  He and plays the third base drum in the school's marching band. Ever since he was a kid he's wanted to be an engineer like his grandfather before him, he's even enrolled in engineering classes at school.
Chris has been hanging around DeMolay since he was 10 years old and his older brothers were active.  DeMolay helped him through the personal struggles and the loss of his mother in 2010.  When he turned 12, Chris joined DeMolay and has been active in Broomfield ever since. 
Chris is starting a new term as Master Councilor.  This is his second time around as master councilor, his first was back in the fall of 2015. 
Just recently he went through the JO track at DLC in Oklahoma, he plans to implement many of the lessons and ideas from DLC in to his chapter.