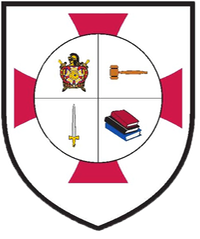 The Order of the Squires of the Round Table.
Dedicated to wisdom, truth and justice.
An organization for young men between the ages of 9 to 12.
The Order of the Squires of the Round Table was established in 1995 as a pledge for the International Order of DeMolay. The basic organization is called a Manor. Each Squire Manor is sponsored by a DeMolay Chapter and under the control of the Advisory Council of the sponsoring Chapter.
Squires take part in community service, leadership among their peers, run their own meetings, have fun and sporting events, and much more. There are up to seven squire officers, three are elected by their peers. Elected officers are Master Squire, Senior Squire and Junior Squire. Appointed officers are Squire Chaplain, Squire Marshall, Squire Recorder and a Squire Treasurer. A Dad/Mom Advisor, who is a member of the chapter Advisory Council, must be present at all Squire meetings and functions. He or she will sit on the sidelines, allowing the officers to run their meetings.  
Membership Requirements:
A Squire applicant must be a male between the ages of 9 and 11. A Squire applicant must also be recommended by a Squire, a DeMolay or a DeMolay Adult Advisor and, in turn approved by the Manor.
Activities:
The best activity ideas will come from the Squires themselves. Just ask what they want to do. Pizza Night, bowling, video games, service projects, the zoo/museums, entertainment venues/parks. All Squire activities shall be approved by the Manor's Advisory Council prior to implementation. The Squire Manor may, at the invitation of the DeMolay Chapter, participate in chapter activities. (car washes, dances, dinners, etc.)
Protocol:
DeMolays, Adult Advisors, Parents, Master Masons and Chapter Sweethearts may attend all Manor meetings and activities.
Meeting Place & Times:
Shall be at the same location and date as the sponsoring DeMolay chapter. On occasion the Manor's Advisory Council can change the date and time of the meeting.
Insurance Coverage:
Members of a Squire Manor will be included in the DeMolay International insurance program.
Initiation Fee:
The initiation fee shall be $18. The use of the initiation fee shall be at the sole discretion of the Manor's membership.
Dress Code:
The Manor's Advisory Council will set the dress code for it's Manor.
Visit our library to download the membership form.