PROUD TO SERVE ALL OF OUR COLORADO DEMOLAY CHAPTERS!!
We meet monthly throughout the year to work on activities, conventions, Winterfest workshops, and much more. We work to handle business on behalf of all of our Colorado DeMolay Brothers and Chapters. If you ever need anything, do not hesitate to contact a State Line Member. 
WHAT IS THE STATE LINE CHAPTER WORKING ON NOW??
Hey Colorado! 
Wow, it has been an amazing couple of months! We are all glad to see so many new faces join our state and so happy to move into this new year with you all! Let's keep growing our order and staying strong once again! We are so excited about some of our state events coming up. First of all Ritual Competition on February 4th once again together with the Colorado Rainbow! Next up, stay tuned for details about Convention coming out soon! 
Also, your State Master Councilor Br. Aiden got the opportunity to visit the Jurisdiction of Florida DeMolay this past weekend, and it was an absolute blast! He got to be able to see many sights and many of our amazing brothers from across states! So once again, stay tuned for some amazing events coming soon!
Talk to you all soon!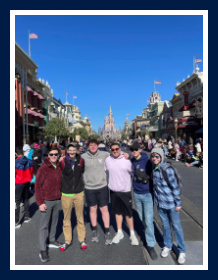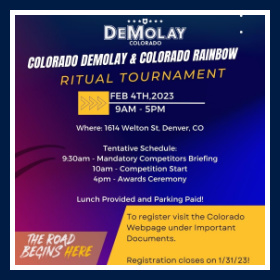 COLORADO'S STATE LINE OFFICERS/STATE STAFF FOR 2022 - 2023
| | |
| --- | --- |
| State Master Councilor | Aiden C. |
| Deputy State Master Councilor | Tabor H. |
| State Senior Councilor | Thomas G. |
| State Junior Councilor | Jackson G. |
| Yearbook Coordinator | Michelle Carrillo |
| Hospitality Director | Vinicio Carrillo |
| DeMolay Store Director | Timothy McLean |
| Social Media Director | Herbie Carr |
| Entertainment Director | Bernie Lehman |
| Congress Advisor | Herbie Carr |
| Convention/Event Director | Kellie Sellars |
| Chapter Communications/Admin Director | Mason Sellars |
| Assistant to the Executive Officer | Randy Crask |
| Personal Representative - Jurisdiction of Colorado | Michael Foster |